Multi-Cloud is a significant trend in cloud computing, driven by enterprises' desire for the flexibility to shift workloads around to any provider. Why limit your business to a single cloud provider when you have the chance to design a multi-cloud environment?  
There are numerous benefits for adopting a multi-cloud strategy (1): 
To get best-of-breed platform and service options.
Cost savings/optimisation.
Improve disaster recovery/business continuity.
Increased platform and service flexibility
Agility
Risk mitigation
No single vendor lock in
The integration of such an environment is a complex undertaking that shouldn't be underestimated. The adoption of a multi-cloud architecture brings with it certain challenges, including heightened complexity, expenses related to training and staffing, and increased management and security costs (1). However, there is a silver lining in the form of emerging tools and platforms designed to streamline the management of Multi-Cloud IT architectures. This is why we have partnered with Alkira who have introduced the industry's first true Multi-cloud Networking platform As-A-Service.  
Alkira have introduced the Unified "Cloud Backbone As-A-Service", which simplifies and expedites the time taken to interconnect multiple cloud providers and SaaS/Internet, with your private cloud, datacentre, campus, head office, branch office, home office etc. Offering this solution, "As-A-Service" coupled with a Network Services Marketplace via which you can choose to insert security solutions such as, Palo Alto firewalls, Cisco Secure firewalls and others has profound value. With Alkira, your engineering team no longer needs to grapple with the complexities of transit gateways and navigating the diverse networking intricacies between different cloud providers and on-premises network equipment. Alkira takes care of all these intricacies for you. The flexibility of adapting your environment and the velocity at which this can be achieved because of the Alkira Cloud Network Backbone is truly compelling value.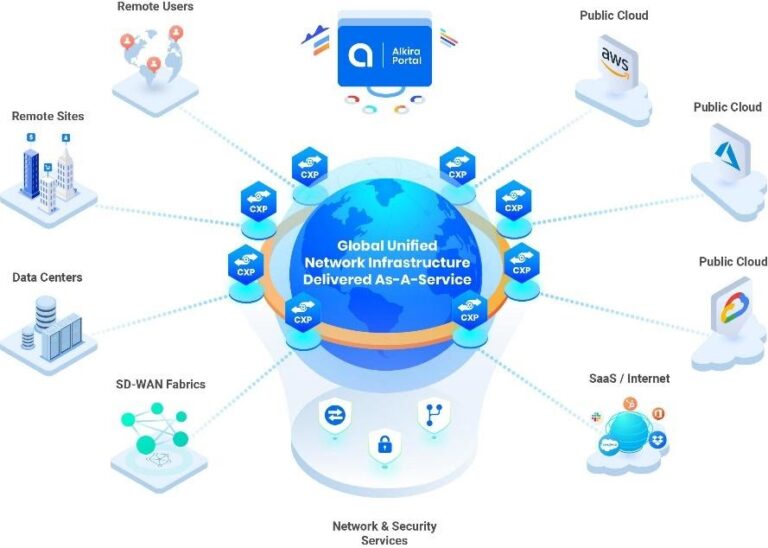 The Alkira solution allows organisations to turn networking for the cloud from a business inhibitor to a business enabler, while providing the following main benefits: 
Faster cloud adoption, with deployment times reduced to minutes, fully aligned with business SLAs.

 

High-bandwidth, low-latency networking connectivity spanning remote sites to major public clouds (AWS, Microsoft Azure, and GCP), as well as SaaS/Internet applications. This extends to seamless connections between multiple public clouds or various regions within a single public cloud.

 

Eliminate

cloud-specific limitations by constructing a multi-region, multi-cloud overlay network, leveraging cloud-native and advanced routing and security framework

 

Global security policy enforcement by harnessing your preferred firewalls and global symmetrical traffic steering

 

Flexibility to accommodate on-demand capacity adjustments, such as high-volume data transfers during specific periods or surges in retail customer demand.

 

End-to-end segmentation between remote sites, public cloud instances, cloud network services and SaaS/Internet exit points for compliance and sensitive or secure applications.

 

On-demand or subscription-based cost model, ensuring that customers are billed only for the network and network services resources they actively use.

 

High availability and resiliency supported up by high uptime service guarantee.

 

Above all, deep end to end visibility and troubleshooting capabilities for Day 2 operations.

 
At Synnepho, we collaborate with you to develop a strategy aimed at achieving your Multi-cloud business goals. We offer a range of standard work packages that can serve as a blueprint for our engagement.  
For example: 
Business consultancy to clearly understand and document the business objectives around cloud and Multi-cloud.
IT audit, discovery and report.
Recommendation report – proposal.
Design and Implementation.
Operate, monitor and manage.
Ongoing review,

assess the need for changes, explore

opportunities for

innovat

ion

and emerging technologies.
A continued partnership with Synnepho will see us cycle through steps 3 to 6 on an ongoing basis to ensure your business consistently operates at its peak performance 
Sometimes seeing is believing. For more information contact Synnepho for a candid no obligation discussion and potentially pro-bono pre-sales "fit for purpose" evaluation.
(1) 2020 IDG Cloud Computing Survey